Where is Naschmarkt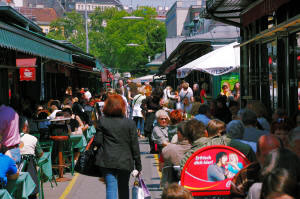 The Naschmarkt of Vienna is located near the city's centre between Karlsplatz and Kettenbrückengasse. It is a long strip like a boulevard but instead of traffic lanes you will find rows of stalls in the centre.
The whole thing is flanked by two normal roads. On one side is Linke Wienzeile while the other is Rechte Wienzeile, literally the "left" and "right" sides.
It is about 3.5km from the Schönbrunn Palace, less than a km from Hofburg Palace, you can walk it in about 15 minutes and of course is just a few streets away from the MuseumsQuartier.
It is best reached by the Metro. You can come out of either Kettenbrückengasse Station on the U4 line or if you prefer Station Karlsplatz that is on three lines U1, U2 and U4:.
The U4 line actually runs underneath the market and there are places you can look down and see the rails.
Google Maps
Bing maps