Fillgraderstiege, Vienna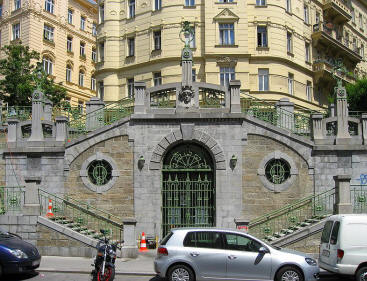 This unusual landmark near the Naschmarkt in Vienna has been voted the fourth most beautiful staircase in Europe. Designed by Max Hegele and completed in 1907 after starting work in 1905. Today it stands as a unique and classic example of Art Nouveau design applied to a public place.
Renovated in the 1980s to bring it back to it's original glory the staircase is now open to be enjoyed by all, it did briefly house a cafe in the previously unused rear room underneath the staircase but sadly this is now closed.
The staircase is named after the widow Anna Marie Fillgrader who was well known in the area for her commitment to charitable works.
Constructed of cast iron and stone, as was the common materials at the time, the main features of the staircase are the delicate lattice work typical of Art Nouveau, carvings and positioning of lamps.
The Fillgraderstiege can be found near Mariahilferstrasse, walk along Mariahilferstrasse for just two blocks from the north of the car park at the west end of the Naschmarkt Market. It is between Filigradergasse and Theobaldgasse in 6. Bezirk.